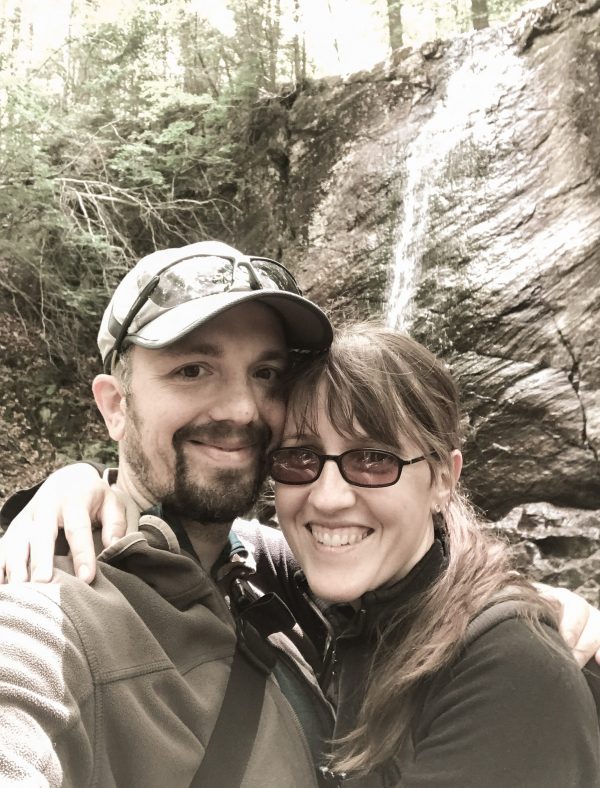 Hello!
I'm an internationally exhibited award winning artist. My work is inspired by my love of nature. I grew up hiking, mountain biking and kayaking in the Adirondacks. My works range from drawings and paintings to sculptures and installation work. When I'm not making art you can find me gardening, wandering in the woods or spending time with my wife, two daughters and our dog Oona.
I also co-own with my amazing wife, Erin, our small family business Grey Fox Felting. At Grey Fox we specialize in needle felting supplies, kits and workshops. I help with web design, workshops, marketing and order fullfillment.
Art Show Resume/CV
I have been exhibiting my work for over 20 years. Below is a selection of solo, juried and group shows where I have exhibited artwork.
Selected Solo Exhibition Record
2016 In Starlight, Peru State College Art Gallery, Peru, NE
2014 Resolve, Umpqua Art Center, Roseburg, OR
2013 Vignettes, Wellsville Center for the Arts, Wellsville, NY
Minutia, Space 26, Utica, NY
Of Loss, Artcentric Gallery, Troy, NY
Cloudlings, Black River Systems, Utica, NY
2010 Emergence, In-Sight Gallery, Brattleboro, VT
Dissolve, Portland Building Installation Space, Portland, OR
2009 Continuum, Washburn Gallery, Eugene, OR
2008 Restructure, BRING Planet Improvement Center, Springfield, OR
Selected Juried and Group Exhibition Record
2023 Made in NY, Schweinfurth Art Center, Auburn, NY
Merged: d'Arts Third National Exhibition of Collage, Norfolk, VA
2022 Something for Everyone, 311 Art Gallery, Raleigh, NC
Art by the Lake, Fenimore Art Museum, Cooperstown, NY
Post It, Coupee Collage Collective, de Krook, Belgium
Look Around, Quebec Collage, Canada 
Todo Y Nada, Vayo Collage Gallery, Rochester, NY
2021 KAC 60 Years of Art, Kirkland Art Center, Clinton, NY 
2019 Ready, Set, Go, Grey Fox Mercantile, New Hartford, NY
2017 Adventure, UGallery, Online group exhibition
2016 Works on Paper, Project Gallery, Toronto, Canada
2015 Spring Art Show, Sculpture Space, Utica, NY
Just Add Water, Kirkland Art Center, Clinton, NY
2014 Tour: The Sketchbook Project, Brooklyn, NY to The Goat Farm Art Center, Atlanta, GA
Pop-Up, Wythe Hotel, Brooklyn, NY
2013 Strut, Project-U Gallery, Utica, NY
Step Outside, Nash Gallery, Easthampton, MA
Funky Flea, Everson Museum Plaza, Syracuse, NY
Contact Boundary, Art Gallery at Umpqua Community College, Roseburg, OR
Art Show, Paper City Performance Arts Space, Holyoke, MA
2nd Annual Snow Show, Public Arts Task Force, Syracuse, NY
2012 Slide Slam, Real Art Ways, Hartford, CT
Art at the Yards, Yards Arts Collective, Rochester, NY
December Exhibition, Fowler Arts Collective, Brooklyn NY
A Landmark and a Mission, Art House Coop traveling exhibition:
Pittsburgh Art Walk, Pittsburgh, PA Roos Roast, Ann Arbor, MI
Wade Oval, Cleveland, OH
Salt Market, Craft Chemistry, Syracuse, NY
Group Exhibition, Versus, Syracuse, NY
Opening Exhibition, Rochester Museum of Fine Art, Rochester, NH
2011 One Night Only, Wyatt Art Studios, Rochester, NH
In the Zone III, Brattleboro Museum and Art Center, Brattleboro, VT
6x6x2011: Global, Rochester Contemporary Art Center, Rochester, NY
One Night Stand V, Valley Green Motel, Keene, NH
Vermont State Snow Sculpture Championships, Burlington, VT
Group Show, Through the Music Gallery, Brattleboro, VT
2010 Brightly Colored Party,  Disjecta Gallery, Portland, OR
Freight Show, Littman & White Gallery, Portland, OR
Sample, Bus 34 Gallery, Eugene, OR
2009 Non Lo So, AHA, Sienna, Italy
Maybe There Will be Sound, DIVA, Eugene, OR
Yard Sale, Laverne Krause Gallery, Eugene, OR
Juxtapose, Maude Kearns Art Center, Eugene, OR
MFA Group Show, LaVerene Krause Gallery, Eugene, OR
2008 Synthetic Rain, LaVerene Krause Gallery, Eugene, OR
Recycle, Reuse, Rethink, RE-ART!, Gallery at the Airport, Eugene, OR
Everything All at Once, Washburn Gallery, Eugene, OR
HOPES Conference, LaVerne Krause Gallery, Eugene, OR
Members Exhibition, Carving Studio and Sculpture Center, West Rutland, VT
First Year MFA Exhibition, LaVerene Krause Gallery, Eugene, OR
2007 2007 North Country Regional, Potsdam, NY
MWPAI Festival Juried art show, Utica, NY
Dreamers Rendezvous III, Curators Choice Award Show, A-forest Gallery, NY, NY
Members Exhibition, Carving Studio and Sculpture Center, West Rutland, VT
Art, Wine & Green, Sherrils Ford, NC
2006 Art Attack Student Juried Art Show, Potsdam, NY
Sculptfest, extraterrestrial, Carving Studio and Sculpture Center, West Rutland, VT
54th Annual Central Adirondack Art Show, Arts Center, Old Forge, NY
BFA Thesis Exhibition, Potsdam, NY
New York State Snow Sculpting Championships, Cooperstown, NY
MWPAI Festival Juried art show, Utica, NY
An Exhibition of Mixed Media Drawings, Creative Spirit Art Center, Potsdam, NY
8th Annual Juried Show, Adirondack Artist Guild, Saranac Lake, NY
Looking Within, Creative Spirit Art Center, Potsdam, NY Obsessive Consumption, A community-based art event, Canton, NY
Best of SUNY spring 2006 Art Show, Albany, NY
2005 Art Attack Student Juried Art Show, Potsdam, NY
Adirondack Juried Art Show, Lake Placid, NY
New York State Snow Sculpting Championships, Glens Falls, NY
Colton-Hepburn Library Community Art Show, Colton, NY
Public Art Speaks, Wall Mural, SUNY Potsdam, NY
MWPAI Festival Juried Sidewalk art show, Utica, NY
7th Annual Juried Show Adirondack Artists Guild, Saranac Lake, NY
forArtsake Juried Art Show, Malone, NY
2004 Art Attack Student Juried Art show, Potsdam, NY
MWPAI Festival Juried Sidewalk art show, Utica, NY
EMC 2004 Earth Day Photography Contest, Canton, NY
2003 Art Attack Student Juried art show, Potsdam, NY